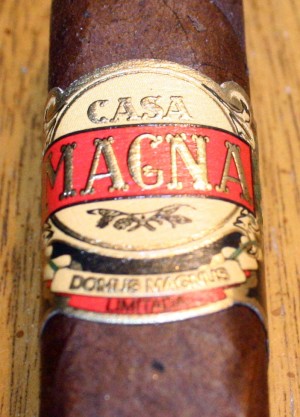 Due to come out in 10 count boxes sometime near the trade show the Casa Magna Domus Magna is made at Plasencia Cigars in Nicaragua. The cigars are blended by Manuel Quesada and the Plasencia family and is set to be released in two sizes. The Maximus (6.5 x 55/$9.95) and the Optimus (5.75 x 52/$8.95). The cigars are box pressed with a pigtail cap.
According to Quesada, "It's a totally different blend. The wrapper is a sun-grown Jalapa wrapper, and we have blended for the wrapper. It's a totally different taste. I would consider them a little stronger and a totally different direction in the taste." Which leads me to ask why they are releasing them under Casa Magna and not a new limited edition line. Suffice to say there is a few aspects of the cigar industry I just don't get. I mean if you aren't a fan of the line you might not try these. If you are a fan of the line, you might not like that they are different.
Cigar: Casa Magna Domus Magnus
Size: 5.75 x 52
Wrapper: Nicaragua Sun Grown (Jalapa)
Binder: Nicaragua
Filler: Nicaragua
Strength: Medium
Number Smoked: 2
Appearance and Construction: Not to sound like a broken record but I am a fan of box pressed cigars, so when I got these in the mail it is safe to say I was all giddy about smoking them. The pig-tail cap isn't a tradition looking one but it does have a nice look about it. The color of the wrapper reminds me of figs with some ultra fine veins present. Under the fingers the stick has a silk like smoothness and is loaded with oils. There are no soft spots and under close inspection the dimensions of the cigar feel like and look like a cube rather than a traditional box press. The band has a different array of colors that are mustard yellow, red, gold and black and a foot band is present as well, letting us know it is a limitada.
Flavors & Notes: The foot of the cigar has a nice nose of wood notes and a tartness about is as well that is subtle and not overpowering. The cold draw of the cigar serves up a nice amount of wood and a subtle nuttiness that suggests this would pair well with a nice scotch such as Auchentoshan, which is a current favorite of mine. Once the cigar is lit there is an abundance of notes that had me literally salivating. Once the cigar is lit, the notes pop off the cigar teasing you without over powering. The first third has some chocolate and plum notes with a touch of wood and leather. The second third of the cigar changes some as the plum notes move to the background becoming slightly floral and are joined by some stronger wood notes and a some nuts. The final third some sweetness remains with some leather notes. I really don't want this cigar to end as the tobacco slowly becomes ash. The experience was that good.